Summarised from workshop entitled How Luxury Brands Can Engage KOLs to Attract Chinese Brand Advocates on the 5th December at the French Chamber of Commerce
With 94% of WeChat's users going onto the app at least once a day, it is clear that brands should absolutely use social media to communicate brand advocates in China. Recent years have seen a shift of marketing budgets from traditional media buys like print, to online display ads and search ads, to social, and finally, influencers. Luxury brands have been particularly cautious to embrace influencers, as doing so is "riskier" than merely placing an approved ad into a well-established magazine: you are allowing individuals to create their own content and comment on it.
That being said, there are ways to give clear guidelines on what your brand expects out of a collaboration, ie. the do's and don'ts of content. The key to avoiding unexpected and unwanted brand associations or product descriptions is simply to think ahead and pre-empt any negative scenarios. Also, giving references of the type of content you expect will help greatly.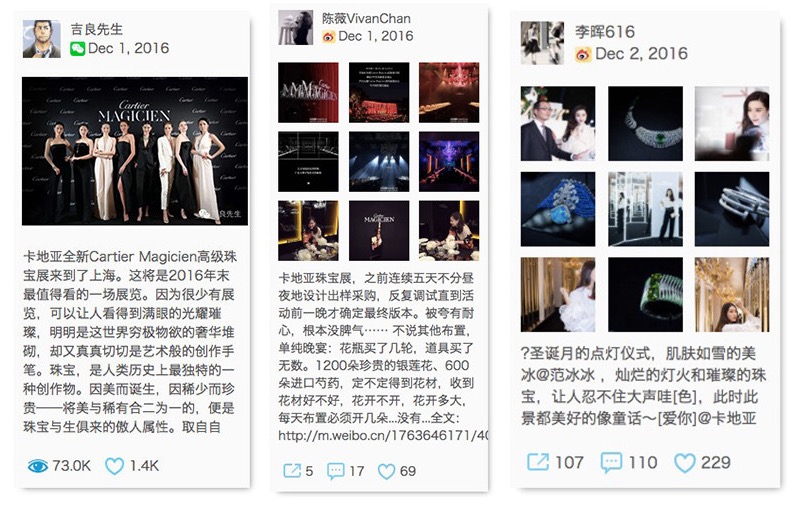 For mass consumer products, it's common to do product gifting to influencers in the range of 50 – 100 per month, constantly keeping the brands in people's social media feeds. For luxury brands, however, it could be cost prohibitive, not to mention brand diluting, to do so, so really finding and fostering long-term relationships with true advocates of the brand becomes essential. Fortunately, KOLs also prefer long-term partnerships, so setting the stage early for recurring opportunities could put you in a better place for negotiations.
A successful relationship should be win-win for both influencer and brand. Based on our anonymous survey of more than 100 top KOLs in China, we realised that the number one thing that KOLs valued in a brand collaboration was voice empowerment. KOLs often work for years fostering their following and fine-tuning their content before they start working with brands, so they're always looking for ways to keep their audiences engaged, growing, and interested. The worst thing that could happen to a social media account is the loss of credibility when its feed becomes oversaturated with obviously sponsored posts and followers start tuning out.
As a result, KOLs are always on the lookout for access to new experiences to share or beautiful photos to take. Consider what your brand could offer in the way of deeper experiences (a visit to your workshop HQ?) or access (a product launch preview or offline event, perhaps?). These go a long way when establishing brand loyalty, and you may discover brand advocates posting more content on their own accord as they become a true fan of your brand.