One of our favourite things about ParkLU is that any brand can post a campaign invitation on our marketplace, so thousands of verified KOLs can opt in. KOLs receive notifications through our ParkLU mobile app, and can respond right away so that before you know it, you can be engaging with KOLs to promote your brand or product.
Before you start, here's a checklist of things you should have ready to fill out the campaign brief:
Step #1: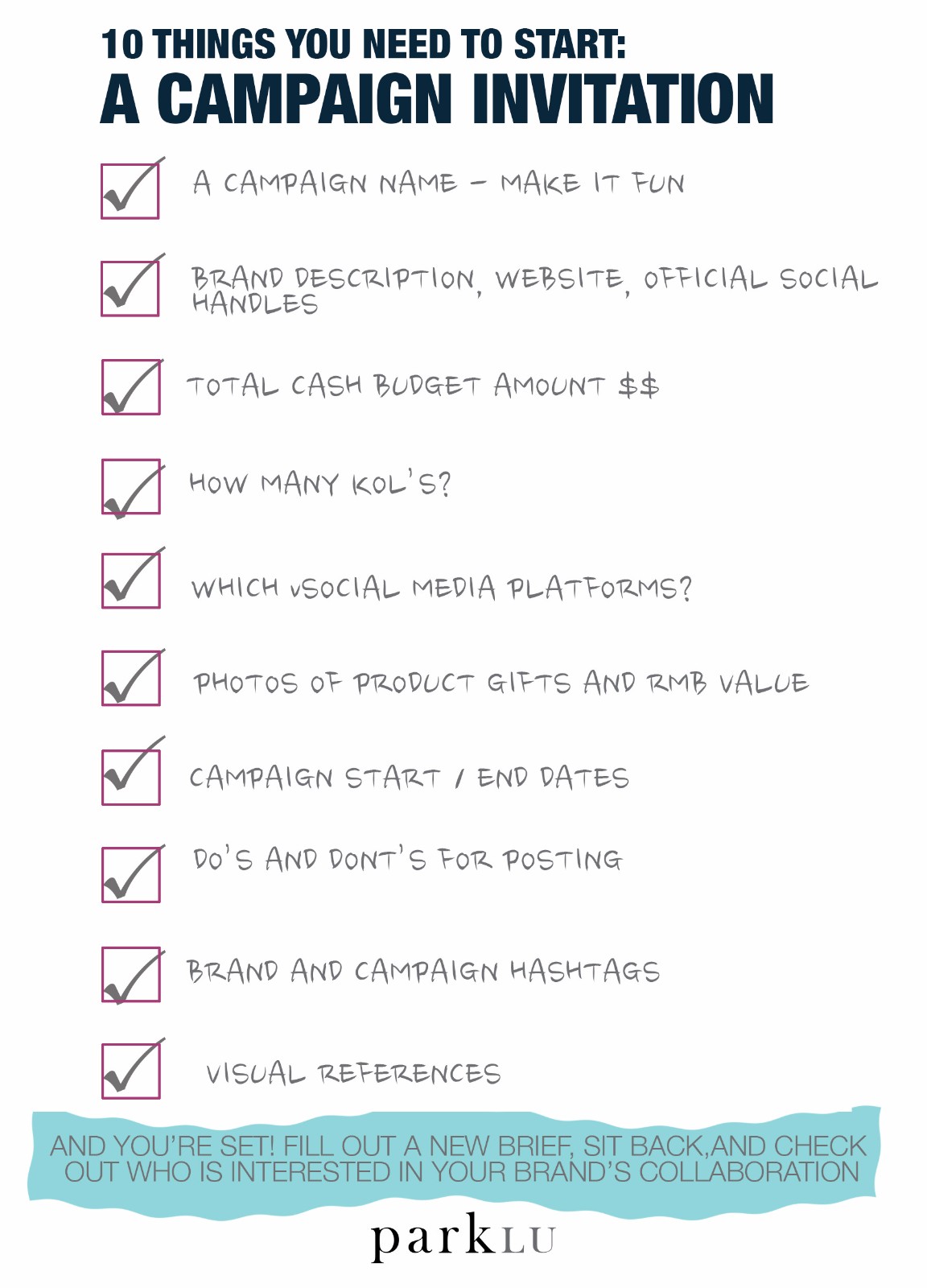 When you click the "Start an Open Campaign" button, the first page you'll see looks like this:
This is where you can give your campaign a cool name and tell KOLs what your brand is all about. Especially for lesser known brands, this is going to be crucial to getting KOLs on board and wanting to help promote you. Select which type of influencers you want to engage (fashion, beauty or lifestyle). Lower down on the page, you'll see a section where you can choose the various social media platforms you want to include. On ParkLU, we include the most popular ones (Weibo, Wechat, Nice, Meipai, Youku, Meilimeizhuang) and most KOLs are on two or more. You can select up to three platforms per campaign - if you need more, we recommend setting up multiple campaigns! Depending on the platform, you'll be asked what keywords and hashtags you want the KOLs to include. For each platform, be sure to input the desired link to include in the post (if required) -- this will enable ParkLU to track click traffic from each KOL.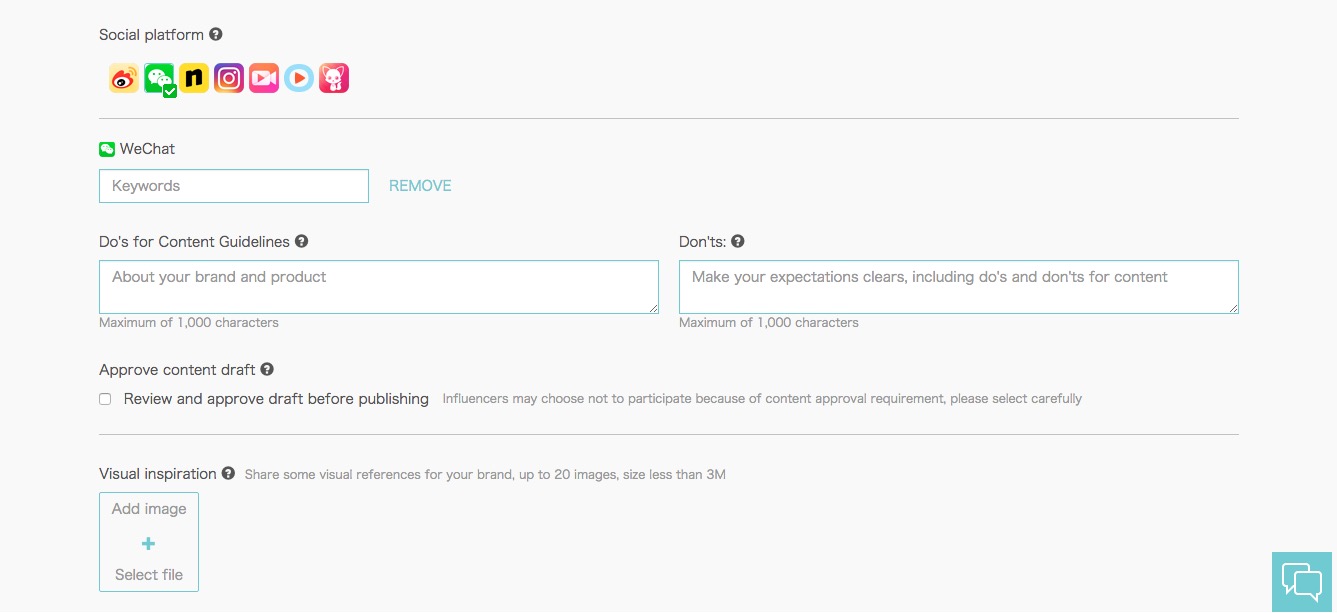 In the guidelines, you can be very specific about what you want the KOLs to include about your brand or product, but remember, part of a KOL's credibility and appeal is his / her voice and style, so it's important to allow room for flexibility.
You'll notice a checkbox to select whether you require final approval of posts before posting. Although most KOLs are fine with submitting their posts for client approval, this may affect their decision to take part in your campaign (again, going back to their credibility).
Finally, upload some images of references for photography / video style so the KOL gets an idea of what you're looking for. Click "Save and Continue", you can always go back and edit what you've input.
Step #2:
In the next section, input the campaign start / end dates, how many KOLs you are looking to engage, and how much cash budget you would like to spend for the campaign, in renminbi. Don't worry, we won't disclose your campaign budget to the KOLs at any time. If you have product to gift as well, upload photos of the product and label them with a description, quantity, and retail value in RMB.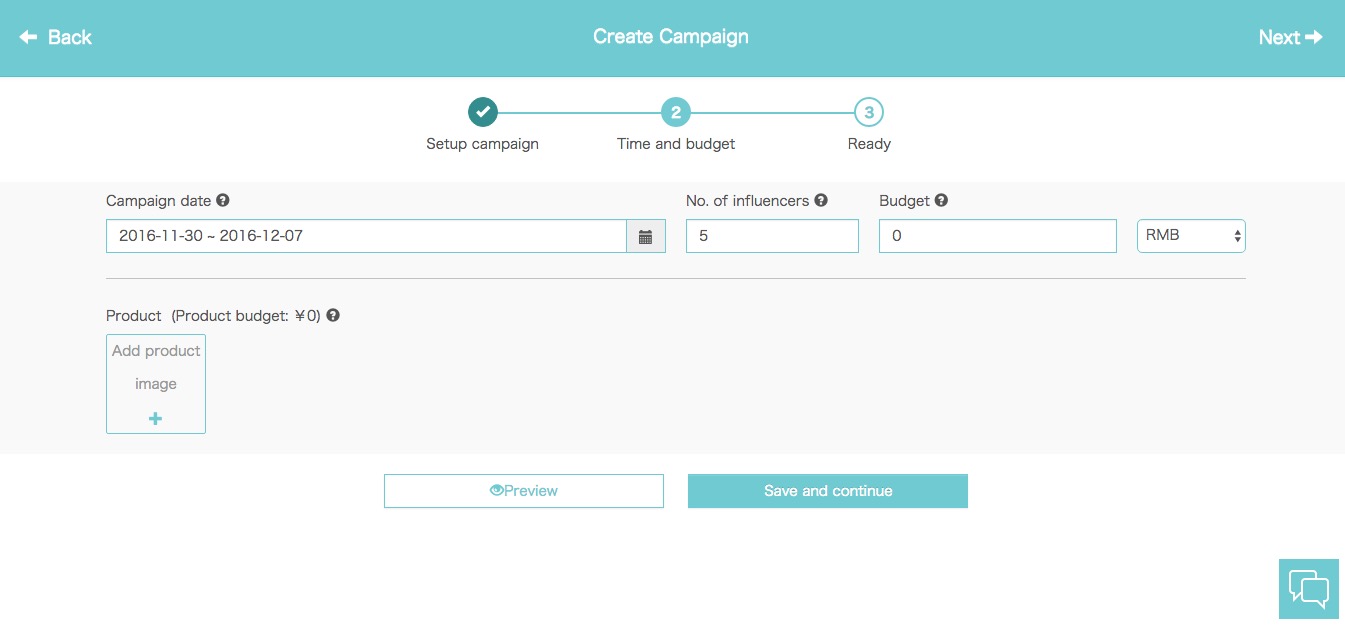 Keep in mind, that when you officially confirm the KOL for your campaign, ParkLU invoices 15% of the cash budget as a platform usage fee, and NO FEES for in-kind sponsorships (product gifting). No credit card or payment information is needed from you until you decide to engage the KOLs who have responded to your campaign.
Save and continue to the final part.
Step #3:
Here, input your brand's official website address and social media accounts. Also add your logo and brand imagery to give a better idea of the aesthetic behind your brand. Click finish, and voila! We will review your campaign and get back to you with any questions or suggestions within 24 hours.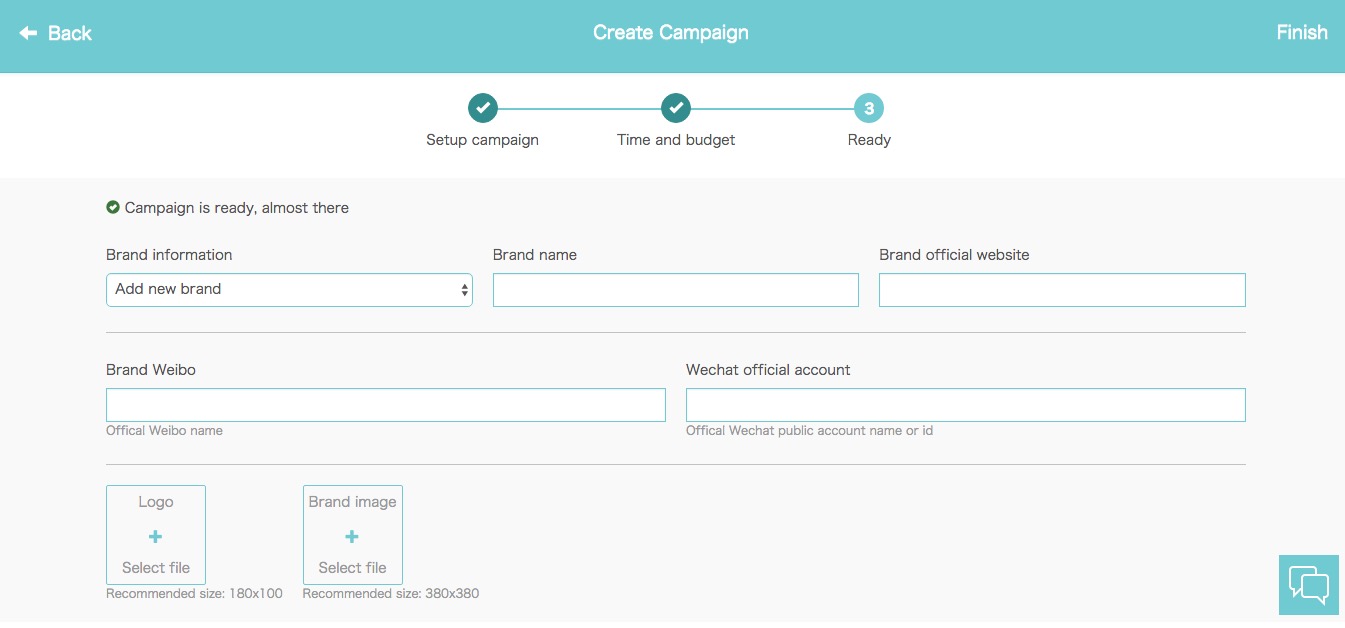 Need more help? Email us at sales@parklu.com, our account managers will get back to you within 24 hours. Alternatively check the Brand Management box in Step #1 to have our account managers execute your campaign for you: they'll help you plan your strategy, identify which KOLs to work with, negotiate cash and product remuneration, make sure your requirements are followed in your campaign time frame, and put together a report once it's all done. Campaign management starts at $2000 USD / mo to work with up to 50 KOLs.